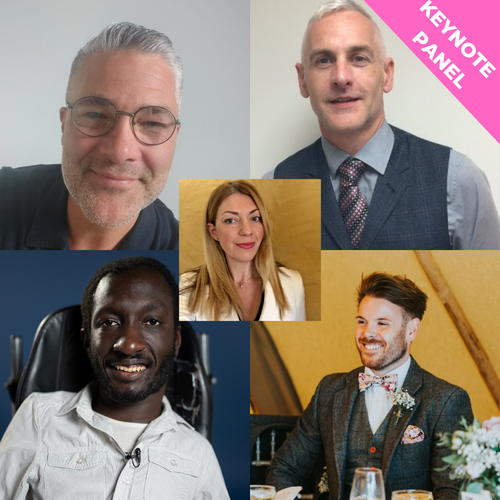 Technology Panel
Sponsored by BlueCrane Publications
The accessibility of technology in care and occupational therapy - developing a personalised blueprint for success
Victoria Buyer, Chair Age UK Lancashire
Chris Pearson, Managing Director UK and Canada, MED e-care Healthcare Solutions Ltd
Chris has more than seventeen years' experience in community pharmacy and the social care sector. For Chris, MED e-care offers much more than software solutions; our care home partners benefit from our vast experience and our consultative approach. Chris is incredibly passionate about going above and beyond for our care home partners and is focused on the long-term evolution of outstanding care delivery.
When he isn't supporting his fantastic care home partners and amazing Team you'll find him at his local gym or enjoying family time.
Duncan Booth, Esri UK, Head of Health & Social Care
Isaac Harvey MBE, President at Wheels and Wheelchairs & Power 100 Disabled People in the UK 2021
Our post-war health and care were designed on an understanding that everyone just needs a bit of help from time to time. But if you ask what people need now, you'll get a very different answer. We all need smarter and faster information- Instant access to a doctor, diagnostic tools that are state of the art.
Most importantly we have to take accountability and responsibility for the design of services by ensuring they consider the people who will shape and use them.
Kez Spelman, Provide Community, Director for Innovation and Community Resilience
Kez Spelman is Director for Innovation and Community Resilience at health and social care organisation Provide CIC, which delivers more than 50 services into NHS and community care settings across England. Most recently, Kez and his team have pioneered the use of hands-free wearable headset technology (RealWear), worn by nurses when visiting patients in their homes, helping them to complete tasks using both hands while they collaborate in real-time with an online clinician who can see through the nurse's eyes, speak directly to the nurse and patient, and give appropriate advice and guidance. Kez's pilot project has this month won the regional category of the Future NHS Award in the 2023 NHS Parliamentary Awards.
Key Panel Questions
Who are these tools actually for?
The clinician, professional or the individual, what do they need to achieve?
Procurement support and developing a buyers framework