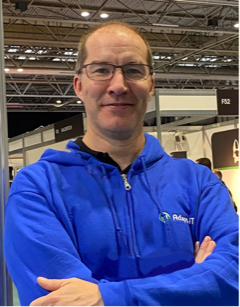 Simon O'Gorman
Managing Director
,
Adapt-IT
Awareness Presentation on Assistive IT and Accessible Gaming
Assistive Technology enables a person to do something better or in an easier way and supports multiple user requirements. Adapt-IT will discuss Assistive IT and Gaming Technology that can help Individuals, Carers, or Business. We will show how different types of technology can help with different conditions, whether they be physical or neurodiverse. Key to this is how positioning is essential to maximise people's abilities. Our aim shall be to inform and empower those in the Care and Occupational Therapy industry to know what is out there, and showing what a difference Assistive Technology can make.
Speaker Bio:
Simon O'Gorman is the Managing Director of Adapt-IT, a family run business in Worcestershire that focusses on enabling IT and Gaming Accessibility for people with disabilities. Simon took on the business 2 years ago, having personally experienced the struggle to help his father-in-law (who had Parkinson's Disease), access and implement assistive technology to access his IT. Simon is also a Cyber Security specialist, so this also complements Adapt-IT's ability to help the vulnerable / disabled community to stay safe online with their IT and Gaming. In his spare time, Simon enjoys cycling – he has completed Land's End to John O'Groats. He is also a keen Gamer himself, and particularly loves playing a wide selection of Retro titles – Centipede on the Atari is his favourite.